Junior Consultant/ Trainer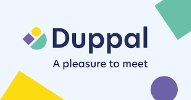 The company
A pleasure to meet Duppal! Based in Amsterdam, The Netherlands. They provide collaboration tools from Cisco, Pexip and Zoom. The secret to their success is that they focus on the human side of technology. Customers choose to work with them because they support them in implementing the tools while making sure they're actually being used. In everything they do, they aim to offer users flexibility, efficiency and fun. Do you want to join them in their quest to make customers happy?
What are you going to do?
You'll give training to customers remotely, using videoconferencing or webinar tools. If needed, you'll also give on-site training;
You'll prepare different types of training materials to help customers get familiar with the tools;
Together with the customers you'll prepare communication campaigns focused on the end-users;
Customers will ask you all sorts of (non-technical) questions about solutions, which you're happy to answer at any time?
You'll analyze tool usage and discuss this usage and market trends with customers;
You'll assist sales staff in their commercial activities.
Who are you?
Daily communication with customers is a big part of this role, so strong communication skills are very, very important;
You don't mind speaking to larger groups and PowerPoint has no secrets for you;
You're a team player with the ability to make customers smile;
You have a higher professional education level (HBO for Dutchies);
You speak and write Dutch (native) and English fluently; additional language skills are a plus;
You have affinity with IT, but you don't need to be technical. We'll teach you all about the technology we work with when you join our team!
You're the proud owner of a driving license (and not afraid to use it).
Duppal offers:
A job in a small but fast-growing, successful company. The team culture is informal and dynamic;
Flexibility: we have a nice office, but you can work from home too;
A competitive salary (based on 40 hours), health insurance allowance, phone allowance, a travel allowance and free lunch;
An unlimited number of holidays, with a minimum of 25, as we trust you can handle this level of freedom.
Opdrachtgever
Duppal
Publicatiedatum
10.09.2021
Contactpersoon
Meer details
Adres
De Entree 234 - Unit 5.07
,
1101 EE Amsterdam
Medewerkers
Job Search Agent
Maak een Job Search Agent en ontvang nieuwe vacatures per e-mail.