Service Manager EMEA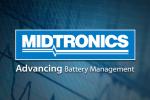 Bedrijfsprofiel
Midtronics is an industry leader of battery management diagnostics and services. We work closely with our stakeholders to understand their business, systems and procedures. We collaborate to create the solution - a tailored battery management program. We provide innovative solutions that help solve problems related to battery and power system management. At Midtronics our curiosity and passion drive us to discover and understand our customers' battery related problems and are continually ranked as one of the most innovative companies by several publications. We continue to develop our expertise and technologies to create leading battery management solutions.
Job description
Midtronics works closely with leading automotive OEM's, dealers, after market parties and service partners. We are constantly creating new ways for our customers to increase sales, reduce costs and provide better service.

As a service manager you will fulfill a crucial role in providing and securing excellent service. This means that you strive for an excellent service management program which is effective, efficient and connects to meet the demand of the needs of the end customer and European service partners. You maintain frequent contact with our service partners to provide technical support and training. In case of recurring failures, you be responsible to act and deliver structural solutions. You are also responsible to report on and give feedback about performance of our (new) products to product managers, software engineers and other stakeholders. Contact with clients is usually by phone or e-mail but in some cases, you will visit our clients and/ or service partners (within Europe). Midtronics is looking for an ambitious self-starter to help grow the service business and play a key role in the continued growth of the organization.
Job recquirements and personality
Job Requirements:
Minimal bachelor's degree, preferably in electrical engineering or computer science;
Minimal 3-5 years' service experience;
Experience with automotive electrical systems is preferable;
Ability to diagnose and solve problems based on customers non-technical description;
Good communication skills in English and Dutch (written and verbal). Preferably also in German.
Your Personality:
A challenging role in which you can make the difference by improving service levels and supporting our business;
Space to further develop both personally and professionally;
Ample opportunities for growth and advancement with exceptional performance;
Good salary and additional emolument.
Midtronics offers:
A challenging job in an international environment;
Working together with motivated and entrepreneurial colleagues;
Plenty of opportunity for personal and professional growth;
A competitive salary.
Locatie
Houten
Opdrachtgever
Midtronics b.v.
Contactpersoon
Meer details
Adres
Hoofdveste 6-8
,
3992 DG Houten
Medewerkers
Job Search Agent
Maak een Job Search Agent en ontvang nieuwe vacatures per e-mail.